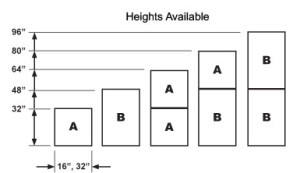 redracks may be stacked on top of one another or placed side by side. Available in 2 heights: A (32″) & B (48″ nominally 47 3/4″) and we offer 2 main sizes in widths: 16″ and 32″ (only wood case modules are 24″) to allow for a number of configurations.
redrack modules sit 2-3/4″ away from the wall for a total of 9″ in depth.
Some assembly is required.